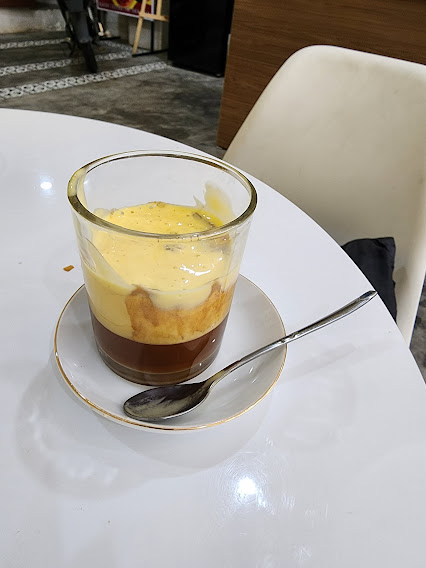 Are you looking for a unique and delicious way to enjoy your coffee? Look no further than Vietnamese egg coffee! This traditional Vietnamese drink is a creamy and sweet treat that will tantalize your taste buds and leave you wanting more.
Now, I'm not a regular coffee drinker. In fact, my coffee habit consists of a cup in the morning at work to keep me awake or usually my beverage of choice if Im out eating breakfast somewhere.
Now, egg coffee is not new or unique to Vietnam. Nor is it the only variety of hot and cold coffees that Vietnam is known for.
Not What I Expected
But this creamy, sweet, and surprisingly delicious coffee right here is a must-try for any coffee lover. I discovered it and several other fascinating varieties, during my first trip to Vietnam a few months ago.
Vietnamese egg coffee is made with a combination of egg yolk, condensed milk, and strong black coffee. The egg yolk is whisked together with the condensed milk until it becomes a light and fluffy foam. This foam is then poured over the black coffee and stirred together. The result is a creamy and sweet cup of coffee that is unlike anything you've ever tasted before.
The unique flavor of Vietnamese egg coffee is sure to please any coffee lover. The combination of the sweet condensed milk and the strong black coffee creates a flavor that is both bold and smooth. The creamy texture of the egg yolk and condensed milk adds an extra layer of richness that is sure to make this drink a favorite.
How to Make Egg Vietnamese Coffee
This creamy, sweet, and surprisingly delicious coffee is a must-try for any coffee lover. Here's the traditional way to make it:
Ingredients:
3 tablespoons sweetened condensed milk (you can use light condensed milk which is lower in sugar)
1 teaspoon white sugar
2 egg yolks
4 cups of hot water (boiling if possible)
Instructions:
For the egg cream:
Combine egg yolks, sugar, and sweetened condensed milk in a bowl.
Mix with a wire whisk until thick and foamy – about 5 minutes.
Assembling the drink:
1. Boil 4 cups of hot water and place the water in a bowl.
2. Place the serving glass inside the bowl of hot water. This cooks the egg gently, helping to get rid of potential bacteria.
3. Delicately pour half of your coffee into the serving glass.
4. Add all of the egg mixtures to the top of the coffee.
5. Now pour what's left of your coffee on top, letting it soak through the egg.
6. Let it sit in hot water for two to three minutes, allowing it to cook the egg thoroughly.
7. Serve and enjoy!
The finished product is a creamy, sweet, and surprisingly delicious cup of coffee. Whether you're looking for a new morning treat or a sweet after-dinner drink, this traditional Vietnamese beverage is sure to please. So next time you're in the mood for something a little different, give Vietnamese egg coffee a try and you won't be disappointed!