Nothing says "Nashville" like enjoying a great meal at a restaurant with live music. So what could be better than enjoying both at the same time? Don't make the mistake of thinking Music City is only country music or only Southern cuisine, even though both are excellent. No matter your taste or speed, Nashville's got something for you to love. Combine these restaurants with some of the best bands in town and you've got a winning combination. When you spend time in Nashville, you're guaranteed to enjoy yourself.
I gained a new appreciation for Music City, which is also called NashVegas because of its bright lights, live shows, and fun, lively atmosphere. Here are some of my favorite spots that give you the best of both.
Head To The Honkey Tonk Highway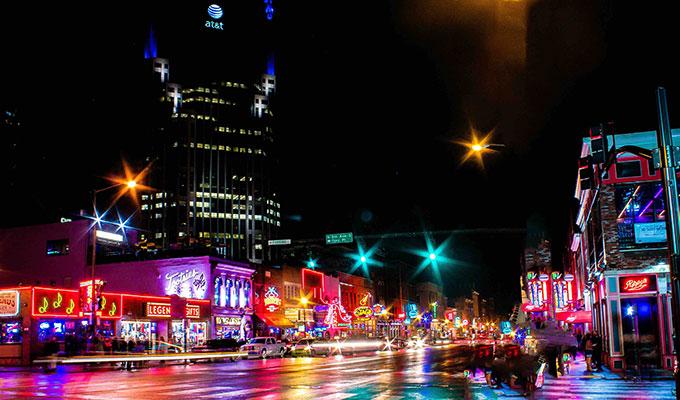 Along the stretch of Broadway that runs six blocks from the Cumberland River, you'll find dozens of Nashville bars and restaurants. Expect these establishments' doors and windows to be wide open, with bands playing great live music into the streets from 10 a.m. to 3 a.m.
There's no cover charge, so save your money for more important things including the ever-present tip jars! Kids are welcome in most places until 6 p.m. because in Music City people understand that kids of all ages should enjoy the music!
According to Visit Music City, "a honky-tonk is an establishment that contains at least one rockin' stage, cold beverages, and a party that lasts all day, every day." With that in mind, here are some of the best restaurants with live bands in Nashville.
The Stage On Broadway
This is one of my favorite spots on Broadway. Some of Nashville's most talented musicians entertain in this live music venue seven days a week, and there is never a cover charge.
There are three bands playing on two floors and on the rooftop patio, so you can jam all night long, but I haven't made it past the first floor yet. The music was that good! This spot has a long history of celebrity performances and sightings. The Stage on Broadway focuses primarily on country music with some occasional rock 'n' roll. All ages are welcome during the day, but it's 21+ after 6 p.m.
The menu has mainly dive bar cuisine: chips, salsa, chicken wings, and so on. The selection is limited, but don't worry. There are lots of choices on Broadway.
Robert's Western World
Check out Robert's Western World on the Honky Tonk Highway. It stands in the shadow of the Ryman Auditorium, the original home of the Grand Ole Opry.
Formerly a steel guitar factory, this venue is a favorite of Nashville locals. They play good, classic country music, especially on Friday nights. Enter from the alley in the back to avoid the crowds on Broadway.
I would describe the cuisine at Robert's as "nostalgic bar food." In the days of crafted cocktails and avocado toast, Robert's daily beer specials, fried pork chop sandwiches, corn dogs, and fried baloney sandwiches seem like unique treats. Drinks are served in plastic cups and are pretty basic. If you want classic bar food, this is the place.
Acme Feed And Seed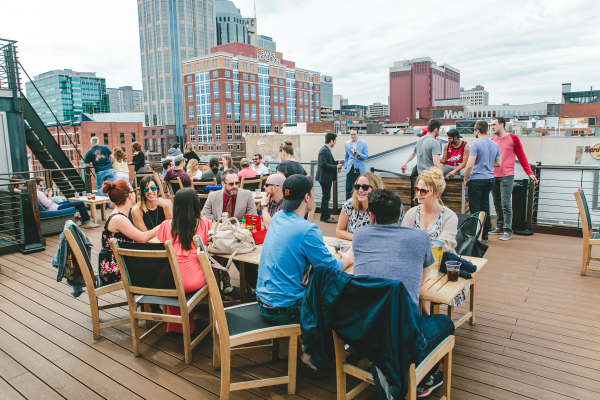 The number one reason to go to Acme Feed and Seed is for the huge rooftop that boasts one of the city's best views of downtown and Nissan Stadium, home of the Tennessee Titans. It's also a great spot to kick back and do some day drinking or watch one of the occasional fireworks displays shot off over the Cumberland River.
Acme Feed and Seed is a four-story restaurant and bar located inside an old factory. The first floor features live country music and a wide range of interesting bar food. I had the Heaven-Lee Ribs — a half-rack of ribs — with mac and cheese, collard greens, and coleslaw. It was filling and delicious.
The second floor has a more upscale lounge and sushi bar and is a much quieter setting. Happy hour runs from 4:00 p.m. to 7:00 p.m. There are craft cocktails and Sunday brunch is available weekly. Acme's third floor is a private event space.
When you visit Acme, you can choose a casual or upscale meal. There is live music nightly, but there's a twist: It probably won't be your typical country act. Go on Thursday night for Funky Tonk, a show that covers the funk standards.
Skull's Rainbow Room
Skull's Rainbow Room has one of the best combinations of food, music, and atmosphere in downtown Nashville. Take a detour a couple of blocks off Broadway through Printers Alley to try this great place. Guests flock to 222 Printers Alley to taste, sip, and experience the legendary dining and entertainment that has made Skull's the cornerstone of Nashville's historic Printers Alley district.
They don't take reservations but the hostess can probably find you a seat at the bar or a table. They are very attentive. I had the broiled scallops with asparagus and mashed potatoes. Although the menu is Creole- and Cajun-inspired fine dining, I can't say my dish was distinctively creole. But it was absolutely delicious.
The crooner, who had a deep, rich voice, added to the dark speakeasy atmosphere. I almost expected to see some film noir characters out of the corner of my eye or over my shoulder.
One more thing: Skull's is famous for its burlesque shows. That's right, burlesque. They do not take reservations or sell tickets for the burlesque shows, but if you would like to see the show without purchasing dinner, there's a $20 cover charge. The burlesque shows are primarily standing room with bar seating depending on availability. Shows are Thursdays at 10 p.m. and Fridays and Saturdays at 11 p.m.
Bourbon Street Blues And Boogie Bar
Next door to Skull's is the Bourbon Street Blues and Boogie Bar. After a few minutes inside you could get so caught up in the music that you forget to order the food! This is a New Orleans-themed blues bar decorated with strings of neon-colored twinkling lights suspended from wrought-iron balconies. The blues music can be heard up and down Printer's Alley. Between the neon sign and the rocking blues blaring through the speakers, you can't miss it.
In my opinion, this is the place for authentic Cajun food, cold beer, and signature cocktails. If you want a taste of the Crescent City without venturing to Louisiana, this is the place to go.
The Big Easy Hurricane and the NOLA Sweet Tea are two cocktails you cannot go wrong with. They are a natural fit. I had the mac and cheese, Alligator Bites, and Voodoo Wings (chicken wings covered in the bar's signature Voodoo sauce). Bourbon Street Blues and Boogie Bar is a smaller club that will keep you dancing all night.
Sambuca
Head to Sambuca in the heart of the Gulch warehouse district. It features live music, an eclectic European-designed dining room, a glass-enclosed Skyloft, and a stunning rooftop patio that overlooks the iconic Nashville skyline.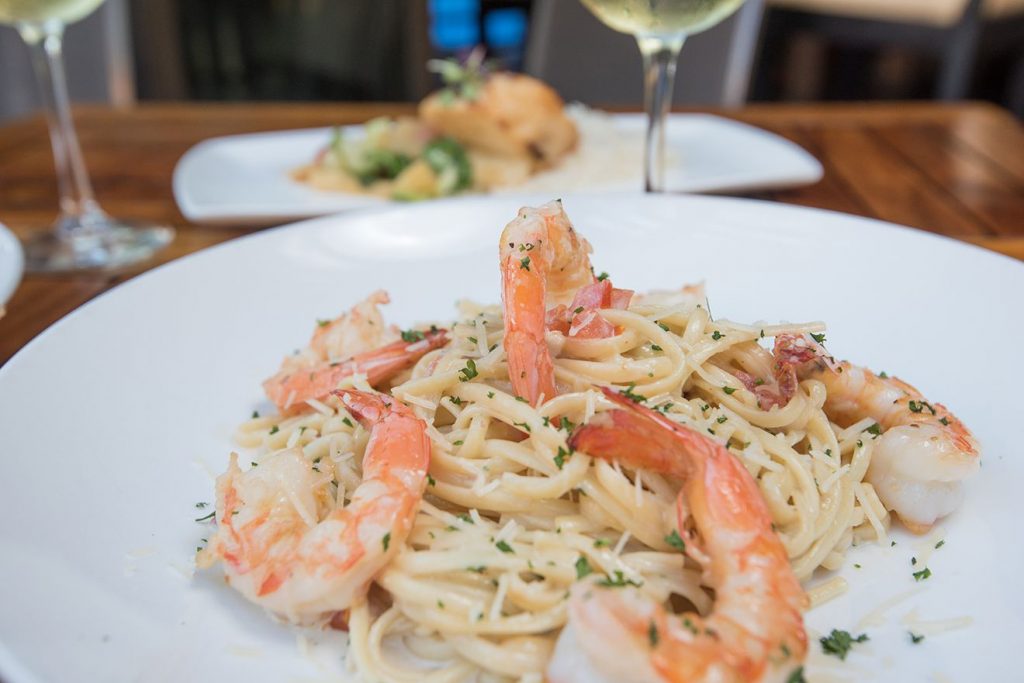 As for music, you can find nightly live music as diverse as Sambuca's menu is eclectic. Highlights include classic rock, sultry vocal numbers, crooners and jazz musicians, and artists who cover the Top 40.
Sambuca is a good place for Sunday brunch or an upscale date night. Live music starts at 6:30 p.m. Sambuca has a nice bar with an upper-level seating area and an outdoor patio. My shrimp and crab linguine was filling and delicious. Sambuca hosts a half-price happy hour weekdays from 4 to 7 p.m. in the bar area; offerings include beers, wines by the glass, cocktails, and snacks.
Puckett's Grocery And Restaurant
If you go to Puckett's Grocery and Restaurant downtown, go hungry. The menu has a huge variety of dishes to choose from, including hearty Southern breakfasts, meat specials, numerous sandwiches served with a Nashville twist, and a variety of favorite Tennessee entrees.
Puckett's started out as a general store with a stage, but now it's turned into one of the best venues in town with live music seven nights a week. They also host a showcase every Sunday at 7 p.m. where you might see a rising star!