This is a review of the Fort William Henry Hotel and Conference Center by a Skip-Generation family actively exploring Lake George, NY.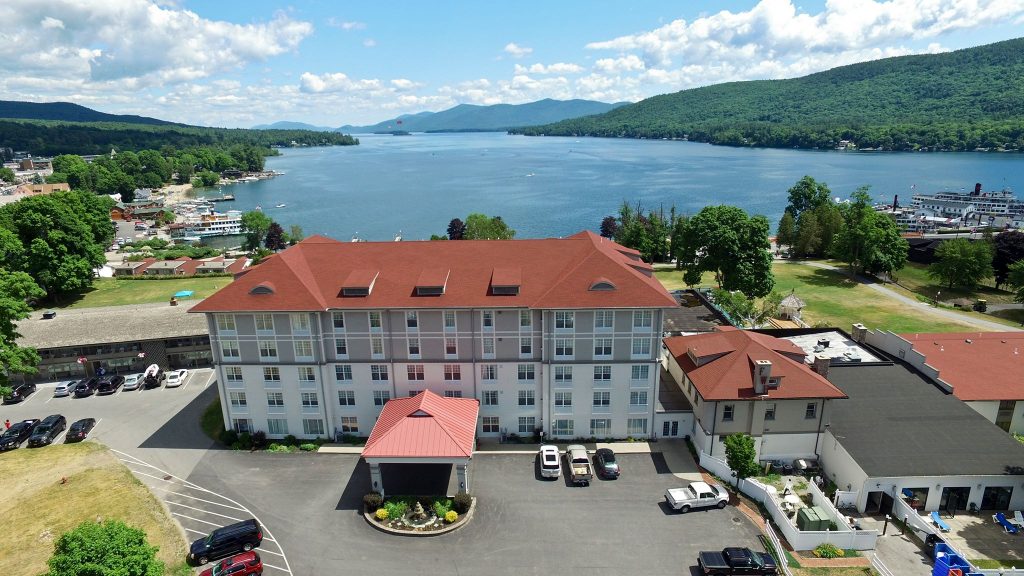 As one of our skip-gen trips (travel with you and the grandkids only), I took my granddaughter to Lake George, NY to share the memories I had with my children "back in the day," and make our own memories. We stayed at the Fort William Henry Hotel and Conference Center, one of the best family-friendly places to stay you can find in the Lake George area. This is our detailed review and honest feedback.
Skip-gen travel is a growing segment represented by grandparents taking their grandchildren on holiday with them, rather than their children.
If you live in the Northeastern US, visiting Lake George may be an easy getaway. I lived in Upstate New York for years and raised my kids there. Lake George was our go-to place for a day of fun and relaxation.
For most non-New Yorkers, Lake George is associated with the Adirondacks – at the foothills of the most popular mountain range in the Northeastern United States.
For NY locals, Lake George Village is all about cruising on the lake and relaxing at lakeside cabins or on the Million Dollar Beach. But there is so much more to Lake George than the main street. It is a perfect "hub" for exploring the Adirondacks and Warren County.
Quick Links:
I was provided with complimentary accommodations and amenities by the Fort William Henry Hotel and Conference Center. As always, all opinions are honest and completely my own and not influenced by my relationship with the brand.
Fort William Henry Hotel and Conference Center is located on the south shore of Lake George, in the New York town of the same name. It is about an hour's drive from Albany, NY, and the Albany International Airport, and a 3.5-hour drive from New York City or Boston.
In our opinion, the hotel's location is quite convenient, within walking distance of downtown Lake George, a town full of little shops, arcades, and cafes, and just the right distance away from some of the most amazing wilderness attractions the Adirondacks have to offer.
Lake George is a year-round destination. Here is a sample of the things to do here:
Better still, if you are into watersports or boating, the Fort William Hotel has direct access to the lake. So, if you are still looking for where to stay when in Lake George, look no further!
Yes, there are many other places to stay in Lake George, including some amazing Airbnb options, but none can match this location and the offered amenities. Read on!
The Fort William Henry Hotel and Conference Center has everything we needed to relax while exploring Lake George, Warren County, and the southern Adirondacks. In addition to rooms, the resort has 2 on-site restaurants, a bar, two pools (indoor and outdoor), a gym.
The Fort William Henry Hotel has a long history. It originally opened in 1855, but after a fire and several rounds of renovations, the hotel has grown to an 18-acre property with three sections, offering three unique levels of lodging for every budget: the Grand Hotel (where we stayed), the Premium East Wing (no elevator access), and the motel section, the Standard West unit. The Grand Hotel section is the newest addition that opened in 2004. It's well known for having beautiful views of the South Basin of Lake George, a large convention center, and being on the same property as the Fort William Henry Museum.
The Grand Hotel lobby has comfortable sofas, stuffed chairs, bookshelves full of books and board games, chess sets, and a business center where you can browse the internet.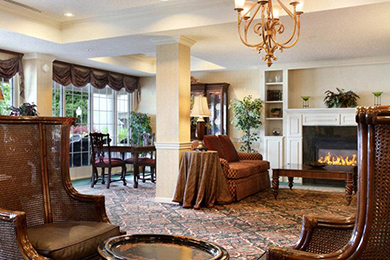 The hotel veranda offers a relaxing view of the lake, especially at sunrise.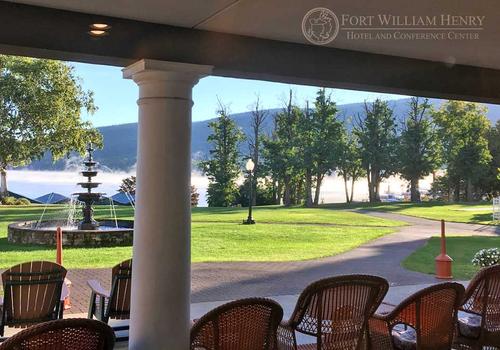 .
Parking
Parking is free. There are two options: a large parking lot in front of the entrance.
WiFi
WiFi is also free, both in your room and all around the hotel, and the internet speed is quite decent.
Swimming Pools
One of the best perks Fort William Henry Hotel and Conference Center had to offer were two pools and a hot tub I'm not a swimmer, but The G-Kid LOVES swimming!
After spending the day on a steamboat cruise, exploring Warren County, and coming back to the hotel absolutely exhausted – the pool and the hot tub were a pure blessing! My teen got instantly reenergized. And we all slept like babies! The next day we were ready for the next big adventure!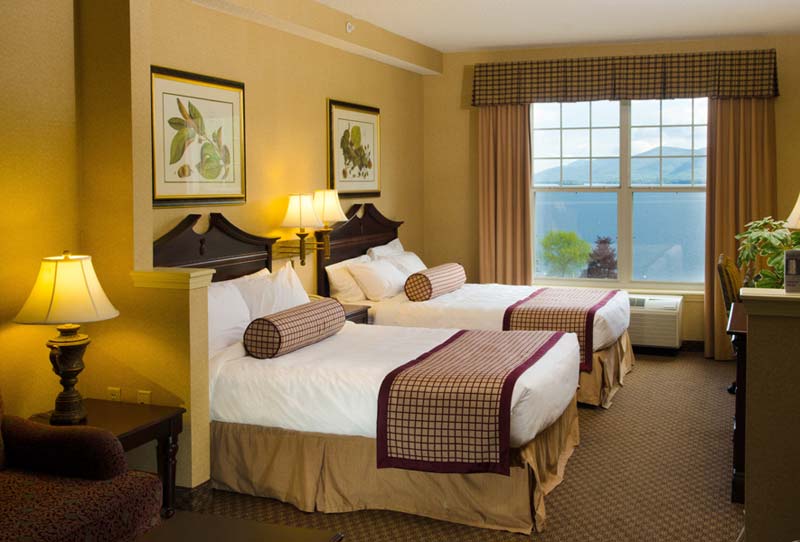 We've been given a spacious room on the 4th floor in the Grand Hotel. The room was spacious, had two comfortable queen beds and a pull-out couch, was clean, and had regular amenities, particularly a microwave, mini-refrigerator, coffee maker, and in-room safe.
There was something special about the room that I hadn't seen before: The bathroom had a pass-thru above the bathtub that opened into the bedroom. I asked the staff about it and, they said several rooms have them. THEIR answer was so that you could monitor the kids while they are in the tub or, if you are relaxing in a bathtub, you can watch your favorite show. It seemed odd to me. But, to each his own.
The lake view from the room was very nice, but we spent most of our day outdoors cruising the lake and exploring downtown.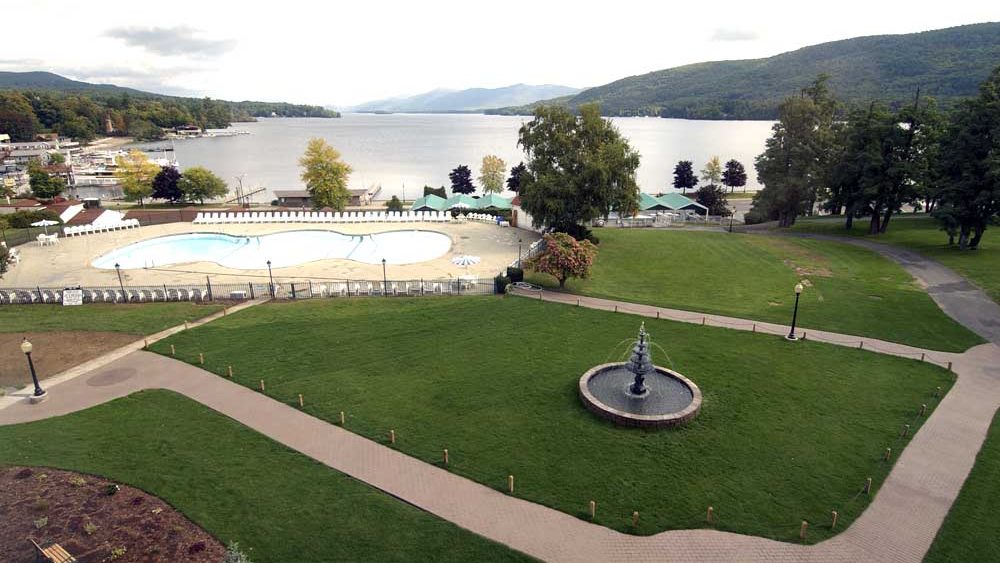 .
.
We were extremely pleased with the hotel food options, including local takeout and delivery options, available. In addition to room service, there is a full-service restaurant, bar, and a cozy coffee shop on-site.
Tankard Taverne
We arrived in the early evening after a full day of touring our former home in Latham, NY, where I showed my granddaughter where her mother and uncle spent their childhood and what her mom's formative years were like there. We were exhausted, but after checking in and settling into our room, we headed straight to dinner.
Frankly, we did not expect much from a hotel restaurant in a town like Lake George – with all the fun food places on Canada Street, Lake George's main street – but, honestly, the Fort William Henry Hotel and Conference Center restaurant, Tankard Taverne, pleasantly surprised us.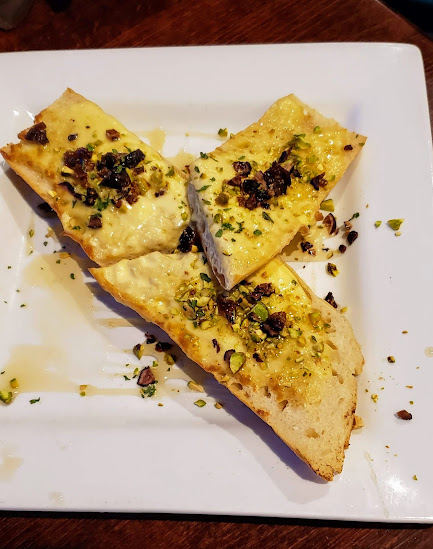 I started with an appetizer of Brie & Baguette, a french bread Crostini layered with creamy brie, fig, and honey with a dusting of pistachio. My entree was Gratinee of Salmon, fumet poached filet of salmon topped with warm brie, crispy tobacco onions, on a bed of sauteed greens. It was so moist and flaky and very tasty.
The carrot cake with cream cheese frosting made the meal complete for me.
My granddaughter had Chicken Fingers and Fries.
All the outdoor tables were taken, so we didn't get to have dinner and one of the unique firepit tables. However, after dinner we went out on the outdoor seating area, taking pictures and strolling the grounds.
Later, we got to sit outdoors by the fire and share our impressions of the day.
White Lion Restaurant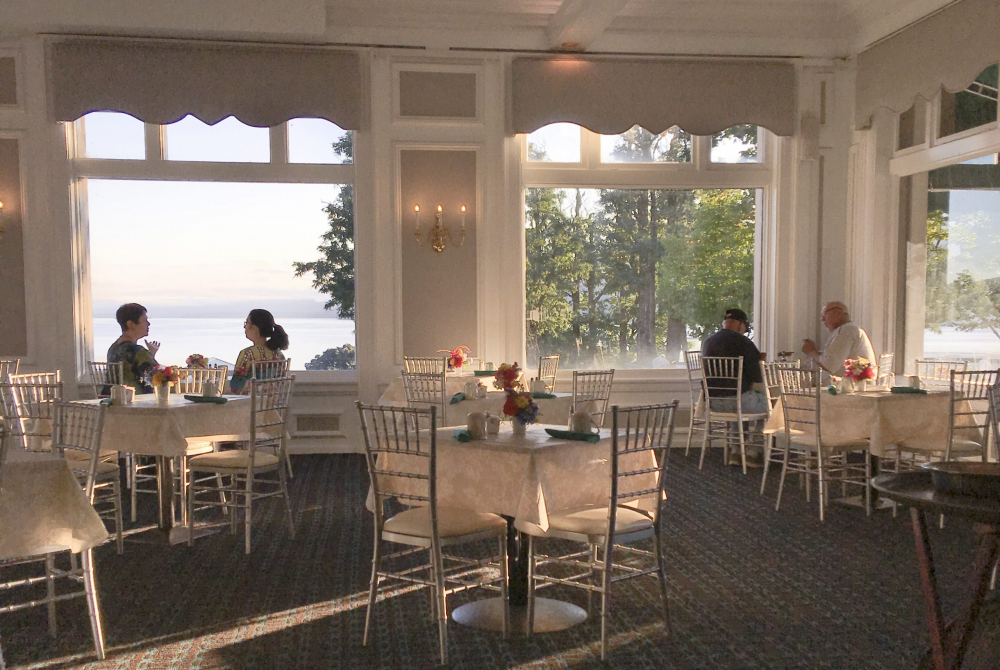 We had Saturday brunch at the White Lion Dining Room, which is the original ballroom of this historic hotel. It was a sit-down table service due to COVID-19 restrictions at the time we were there. It's typically a reasonably-priced large buffet with excellent food choices, and a great start to our day full of adventures.
I had the Build Your Own Omelet $11
A three-egg omelet with cheddar and Swiss cheese, bacon, onions, peppers, mushrooms and spinach, and Adirondack home fries, coffee – $3
Large Orange Juice – $3.50
The G-Kid had pancakes. Short Stack – $5 Bacon – $3.50 Fresh Brewed Regular or Decaffeinated Coffee – $3
Juice Small – $2.50
Being the picky eater that she is, used no syrup, only powdered sugar. Go figure.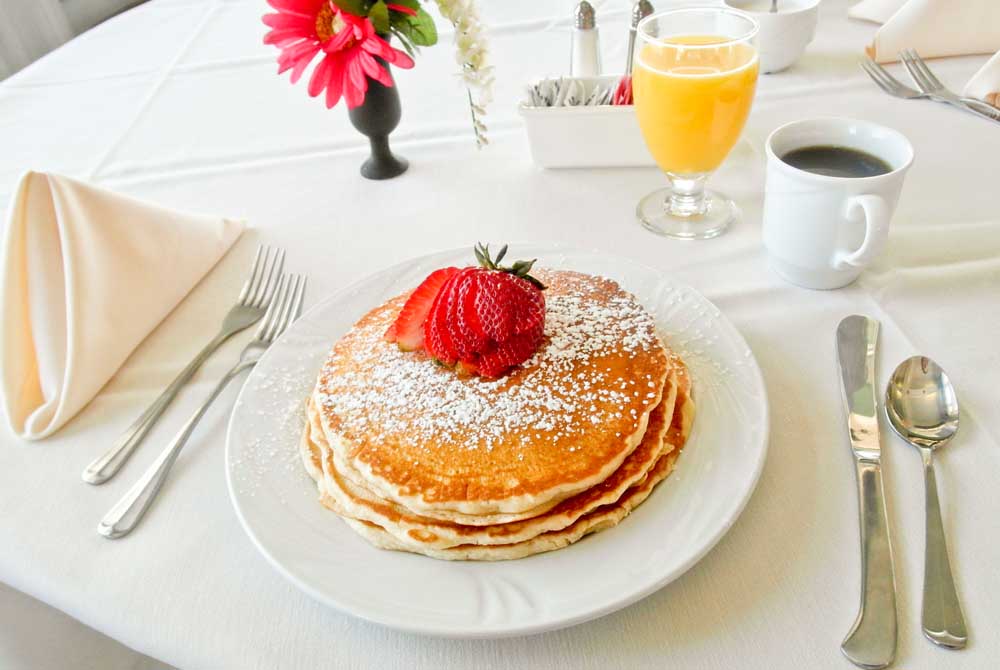 Fort William Henry Hotel and Conference Center – Lake front
I would call the Fort William Henry Hotel and Conference Center a lakefront property, even though it's steps from the southern shores of the lake and within walking distance of many of the town's great attractions. This includes being right next to the historic Fort William Henry after which it is named. There also is direct access to a steamship cruise, and Million Dollar Beach is a few steps away.
Whether you are enjoying a meal at a restaurant, or looking out your window, or taking a stroll on the beach – beautiful lake and mountain views are guaranteed!
We spent the rest of the day touring the Fort William Henry Museum and cruising the lake on the Saint Sacrement, the Lake George Steamboat Company's fleet.
Special Thank You to Fort William Henry Hotel Staff
We'd like to take this opportunity and say a special Thank you to some of the staff who made our mini-vacation so enjoyable.
The staff dinner staff at the Tankard Taverne was super-helpful and attentive. She made us feel warm and welcomed.
Our server a the White Lion went above and beyond to accommodate our little special requests, including all the extra powdered sugar! Thank you!
It is how your people care for guests' needs. I am extremely grateful you have an amazing team at your property! kudos!
Conclusion
Should you come to visit Lake George? Absolutely!
We can say with full confidence that the Fort William Henry Hotel and Conference Center is definitely one of the best places to stay in Lake George when looking for a vacation full of relaxation or adventure, or both!
Have you been to Lake George yet? Do you travel with your grandchildren? Send us a message or please share in the comments!
Enjoy!