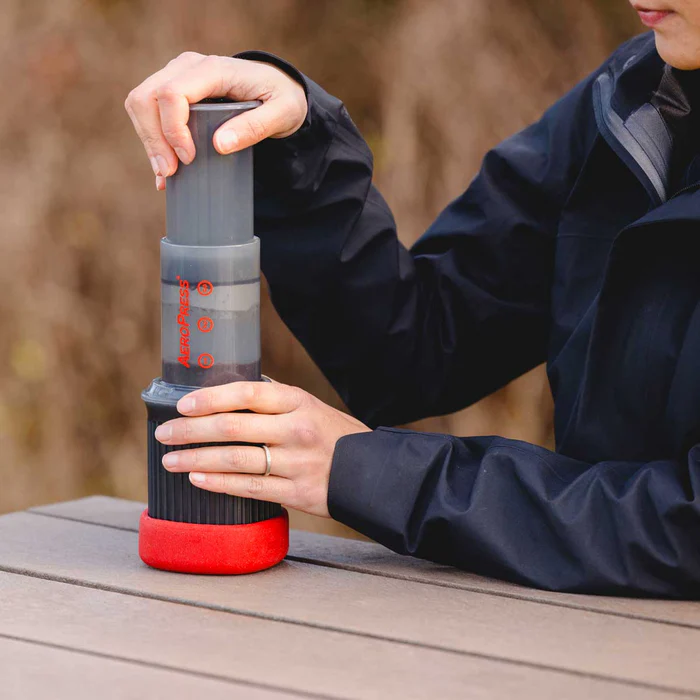 Do you love coffee but hate sacrificing quality for convenience on your road trip? The AeroPress Go Travel Coffee Maker is a portable coffee maker that solves your coffee problems and makes your travels even better.

I know I'm not the only traveler with a favorite coffee flavor or blend. And when you are traveling, sometimes truck stops or coffee shops are a poor second choice.

The AeroPress Go is a compact and portable coffee maker that offers a convenient solution for making delicious coffee on the go. It's a coffee-making machine that's perfect for road trips, camping trips, or just for people who are always on the move.

Here are some reasons why the AeroPress Go is the ideal coffee maker for road trips:

Lightweight and Compact: The AeroPress Go is incredibly lightweight and compact, making it easy to pack in your luggage or backpack. It weighs just 0.64 pounds, so you won't have to worry about it taking up too much space or adding extra weight to your luggage.

Easy to Use: The AeroPress Go is very easy to use and comes with clear instructions, so you can enjoy a great cup of coffee even if you're not a coffee expert. Add your ground coffee, water, and press. It's that simple!

Delicious Coffee: The AeroPress Go uses a unique brewing process that results in smooth, rich, and flavorful coffee. The coffee is free from the bitter flavors and oils that can be present in other types of coffee makers.

Durable: The AeroPress Go is made with high-quality materials, making it a durable and long-lasting option for coffee lovers. It's designed to withstand the rigors of travel and is built to last.

Eco-Friendly: The AeroPress Go is an eco-friendly coffee maker that helps to reduce waste. It comes with a reusable microfilter, so you won't have to use disposable paper filters, saving both money and the environment.

In conclusion, the AeroPress Go Travel Coffee Maker is the perfect companion for your road trip. It's lightweight, compact, easy to use, produces delicious coffee, and is eco-friendly. So, why not treat yourself to a great cup of coffee on your next road trip? You won't regret it!