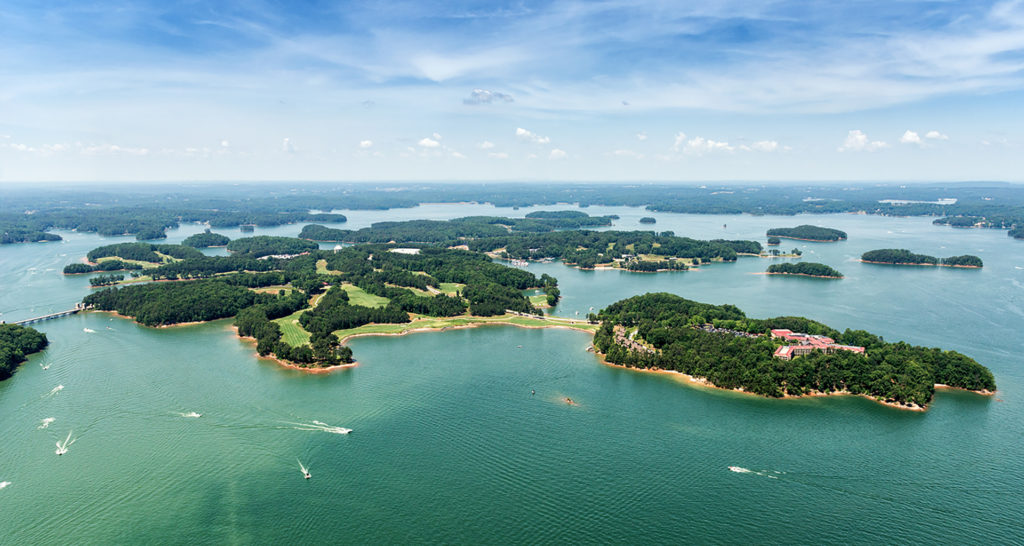 Located only 45 miles from the bustling city of Atlanta, Lake Lanier in Georgia offers a tranquil escape. The area's main attraction, Lanier Islands, boasts a variety of accommodation options to cater to different tastes and budgets. From the luxurious Legacy Lodge and Legacy Villas to the snug Lake Houses and rustic campgrounds and RV sites, there's something for everyone. Experience the warm hospitality of the South at this idyllic haven.
Legacy Lodge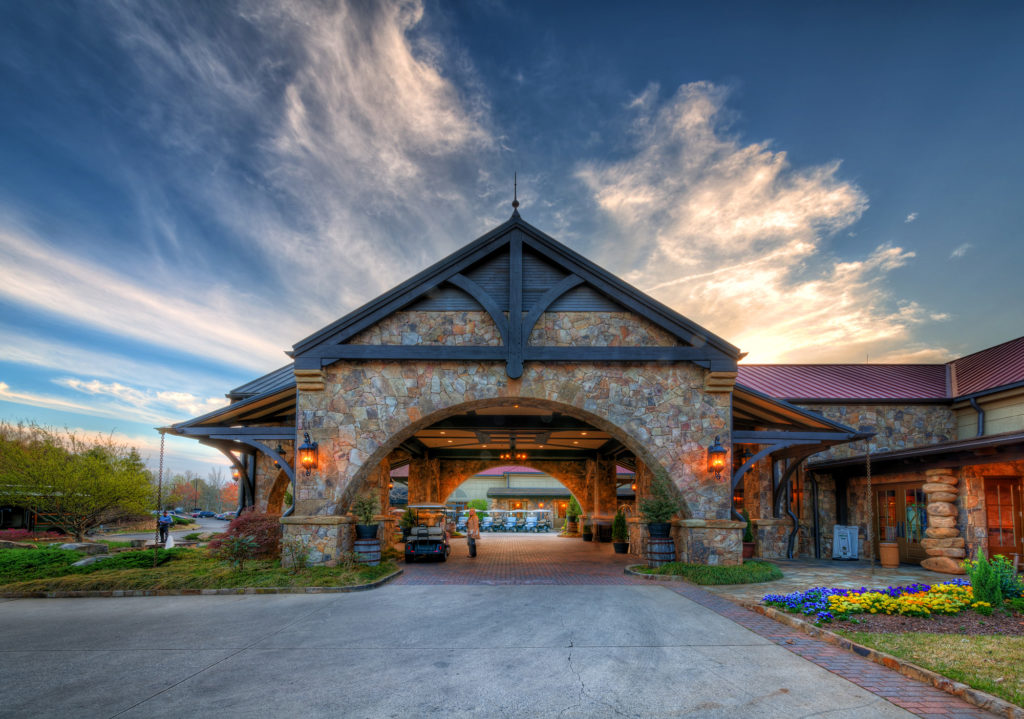 Nestled amidst tall pine trees, Legacy Lodge provides a perfect blend of comfort and sophistication. With 214 roomy guest rooms, ranging from king and double queen rooms to suites, each with a balcony that offers a picturesque view of the lake, you will be spoilt for choice. The guests have praised the impeccable room service, luxurious bedding, and well-equipped bathrooms of the lodge. Additionally, you will have access to free Wi-Fi, plentiful parking, and an outstanding laundry service.
The Legacy Lodge sets itself apart with its tranquility spa, a haven of relaxation that guests say is worth every penny. Foodies will rejoice at the two onsite dining options: Bullfrog's Bar and Grille, famous for its Georgia Peach Margarita, and Sidney's for its standout breakfast and a truly Southern culinary experience.
While the cost is on the higher end, guests unanimously agree that the combination of amenities, comfort, and scenic beauty offer great value for money.
Legacy Villas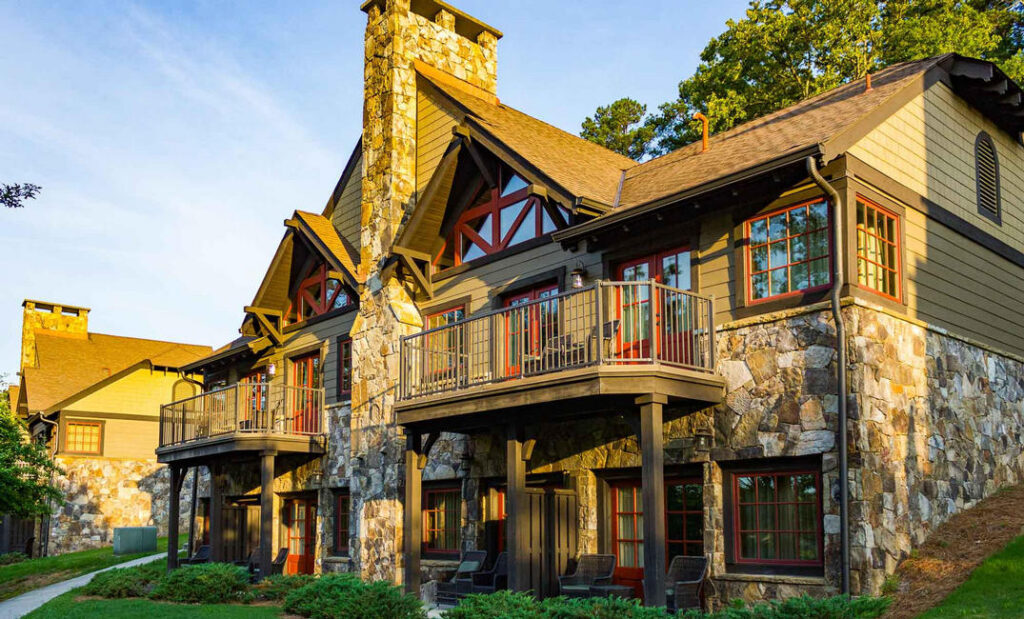 If you're looking for a secluded retreat, the Legacy Villas are perfect for you. They offer two bedrooms and two bathrooms, giving you a home away from home. Each villa is fully furnished with a kitchen, a spacious living room, and a private deck to ensure a comfortable stay. Guests can also enjoy the amenities of the lodge, including a gym, swimming pool, and laundry services.
Many guests have praised the housekeeping and concierge staff for their friendliness and attentiveness. Although The Villas do not have their own restaurant, guests staying in the villas can easily visit the restaurants at Legacy Lodge, which is just a short walk away.
Lake Houses at Legacy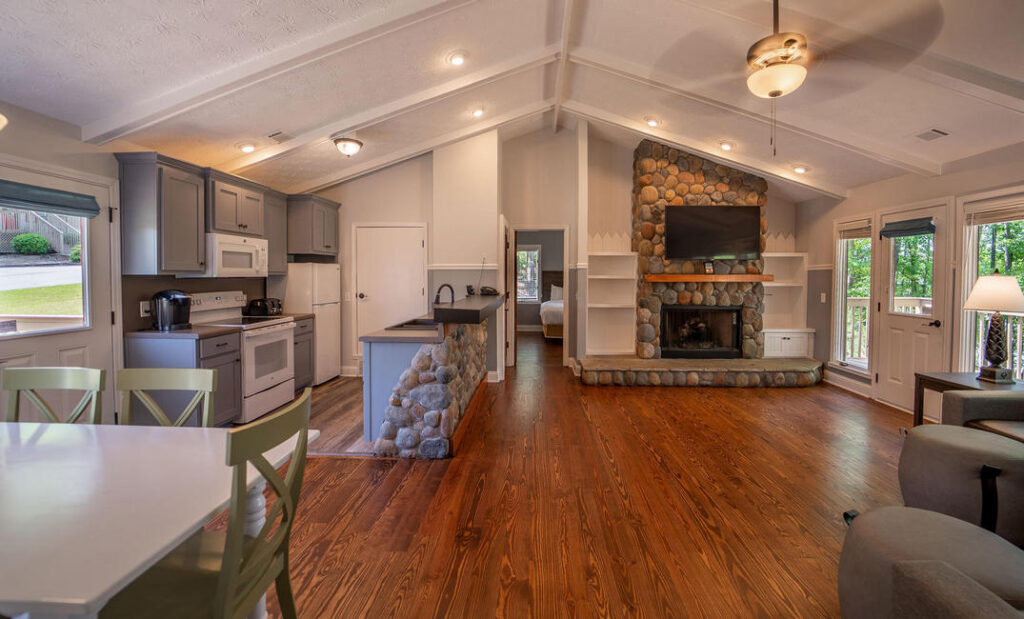 The Lake Houses are an ideal option for bigger families or groups. Every house is equipped with two to four bedrooms, complete kitchens, living spaces, and a personal deck with a grill. The amenities provided are comparable to those at the lodge and villas, with Wi-Fi, parking, and laundry services all included. These lake houses, separated by their awe-inspiring lakeside vistas, present an exclusive opportunity to witness Georgia's stunning sunrises and sunsets.
Campgrounds and RV Sites
Shoal Creek Campground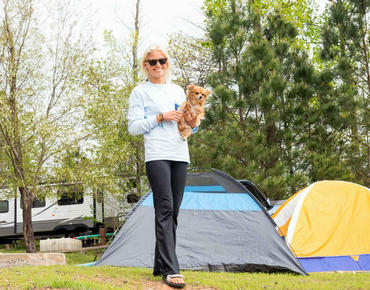 Located just outside the Lanier Islands gates on Shadburn Ferry Road and conveniently off Buford Dam Road, Shoal Creek Campground is a remote destination offering a variety of campsites to suit your needs. Choose from lakefront or wooded sites, with or without hookups, and take advantage of amenities like boat ramps, showers, restrooms, picnic tables, a picnic pavilion, and a swimming area. You're welcome to pitch your tent here and enjoy the great outdoors.
Camp Margaritaville

Come to Camp Margaritaville RV Resort Lanier Islands for the ultimate lakeside paradise experience. Whether you want to relax by the campfire and unwind in nature or enjoy seasonal and year-round recreation at Margaritaville at Lanier Islands, the choice is yours. You can experience the unique thrills of the seasons with the Water Park, boating, and tiki bars during the summer and License to Chill Snow Island and Lakeside Lights Extravaganza during the winter. Plus, you can enjoy year-round activities like boating, waterfront dining, boat rentals, boat cruises, and golf.
Local Attractions
Apart from the available accommodations, the location boasts a variety of attractions to keep guests engaged. LanierWorld Water Park and Zip Line Canopy Tours offer thrilling activities for adrenaline junkies while the serene beach and walking trails provide a more tranquil experience. There is something to suit everyone's interests.
Guest Reviews and Safety Measures
Across all accommodations, guests have praised the impeccable cleanliness and diligent safety measures implemented in response to the current health situation. The staff consistently receives high ratings for their attentiveness and hospitality. Some guests have noted the higher-than-average dining costs, but agree that the overall experience is worth the price.
In Conclusion
If you're looking for a luxurious escape, the Legacy Lodge is a great option. For a more secluded experience, the Legacy Villas are perfect. Families can bond at the Lake Houses, while those seeking adventure can stay at the campgrounds. Whatever your preference, Lanier Islands guarantees a memorable stay filled with Southern charm and stunning natural surroundings.